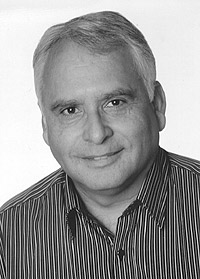 | | |
| --- | --- |
| | Documentary Film |
| | Corporate Video |
| | Commercial Spot |
| | |
| | peterson@englishvoices.de |
| | 0179 / 20 78 350 |
| www | billpeterson.net |

Name:
Bill Peterson

Country of Origin:
Canada

City of Residence:
Berlin

Strong Points:
Wide range from hard sell to soft soap, the authoritative voice of
news and documentary, the detached voice of science, the smooth
voice of the TV commercial.

Accents:
North American Network Standard

Selected Experience
and Clients:
Over 30 years of broadcasting experierience.
Voicing for hundreds of documentaries, corporate films and
commercials since the 1980s: clients included Ford, Volkswagen,
Lufthansa, Henkel, Braun, ZDF, BEWAG, ntv, Esec Semiconductor,
Stahlbau Plauen, House of Promotion (RTL).

Background:
Communication Arts at Loyola University of Montreal.
CBC Radio in Canada and Canadian Forces Network in Germany.
Television production at AFN Berlin and for RIAS-TV.
DW-TV since 1993.
Freelance broadcast and print journalism since mid-1970s.

Other Talents:
Strong writer-translator specializing in technology and business.
Offering full package: script adaptation and voicing inclusive.
Own voicing facilities.